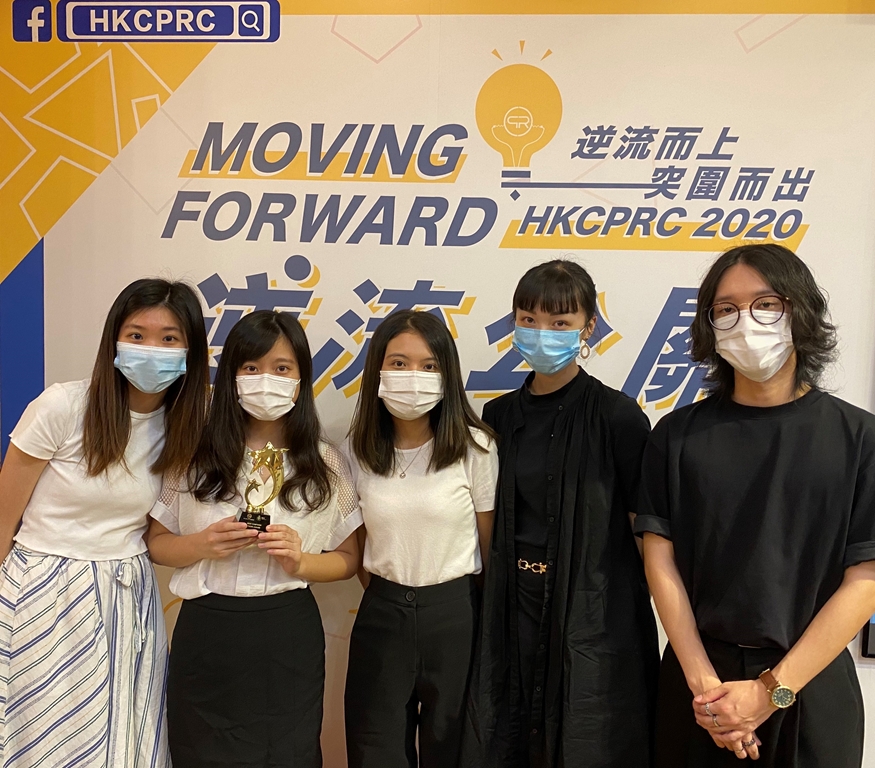 Team member (from left to right): Lo Shuk Lan, Wong Ka Lin, Wong Wing Lam, Chan Hei Tung, Wong Kin Pan
 
 
 
Creative minds from COM have won the Best Campaign Theme Award with their campaign (老細要Solve符) at Hong Kong Creative Public Relations Competition 2020 (HKCPRC). 
 
The campaign aims at promoting a new brand King of Accounting (KOA), which is a start-up that specializes in providing administration and accounting cloud system services. 
 
"As a business to business (B2B) campaign, our team's target audiences are small and medium enterprises (SME), as well as start-ups. We have taken both online and offline approaches in our campaign," said Lo Shun Lan, the leader of the team.
 
The online activities the team created included the production of three one-minute advertisements; as for offline activities, they had planned a workshop for SMEs and start-ups so as to increase KOA's exposure among the target audiences.
 
"However, we encountered difficulty in executing a workshop of scale and in finding a suitable venue because of the restrictions we faced with group gathering during the pandemic. At the advice of our host, regrettably we had to cancel the workshop; yet it also allowed us to focus all our energy on the online activities, which we believe ultimately had helped us to bag the prize," said Lo.
 
The team found the experience of joining the competition enriching and practical. "We have received useful feedback from the judging panel. For instance, we learned that we should include a more detailed data analysis of our target audiences and the engagement rate of our campaign."
 
Since HKCPRC's inception in 2017, COM students have been actively participating in this competition and have been winning prizes for four years in a row. The latest achievement of our students is a testimony of the creativity and adaptability of our students amid these times of changes. 
 
| | |
| --- | --- |
| Team member | Major |
| Lo Shuk Lan  | TVB |
| Wong Ka Lin  | TVB |
| Wong Wing Lam  | TVB |
| Chan Hei Tung  | MDCM |
| Wong Kin Pan  | MDCM |