CCR member Dr. Xiaofan Liu has won a data science research grant from The International COVID-19 Data Alliance (ICODA) and the Grand Challenges (GC) initiative. His proposal is among the ten projects selected from more than 400 applications submitted from 69 countries after a rigorous review process involving an international panel.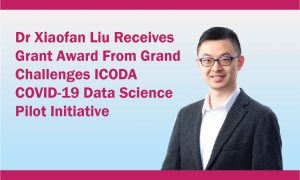 Dr. Liu's proposed project, entitled "Characterizing COVID-19 transmission chains for precision mitigation, using epidemiological survey data" intends to improve control measures for COVID-19 by applying statistical methods to existing datasets containing over 40,000 COVID-19 cases from five Asian countries to reconstruct transmission chains between individuals in households and communities. Dr. Liu's global research team comprises a group of international scholars from China (mainland and HK) and the UK.
ICODA is a globally coordinated data-led research response to tackle the COVID-19 pandemic, convened by Health Data Research UK, the UK's national institute for health data science. ICODA is funded by the COVID-19 Therapeutics Accelerator, a large-scale initiative initiated by the Bill & Melinda Gates Foundation, Wellcome, Mastercard with additional support from Minderoo Foundation, Microsoft's philanthropic AI for Health programme, and other donors.
Grand Challenges, Launched in 2003 by the Bill & Melinda Gates Foundation, is a family of initiatives fostering innovation to solve key global health and development problems. Each initiative is an experiment in the use of challenges to focus innovation on making an impact.
Selected projects in the GC ICODA COVID-19 Data Science pilot initiative will address urgent research questions relating to the ongoing pandemic using innovative data science approaches and seek to have rapid impact on the health of communities across the world.